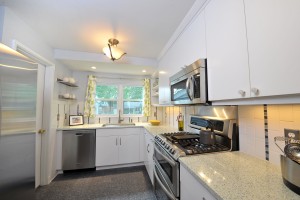 This might come as a surprise to you, but Thanksgiving is only three months away. If you are looking around your house thinking how in the world you are going to get everything spruced up in time… never fear, RIGGS is here! There are always simple, low cost and effective things you can do to make your aging space look new.
The kitchen is where many of your guests will congregate this holiday season. Here are a few cost-efficient tips that will give your kitchen a whole new look and feel.
Cabinets – If your cabinets are in good shape, a fresh coat of paint will give them a brand new life! Remove the doors and begin cleaning and sanding all surfaces. We also recommend using a good primer. Choose a nice crisp color and apply two coats of paint. Let the paint fully dry before reinstalling the doors.
Hardware – Often times, new cabinet hardware can make a huge difference. Remove door handles and pulls, and choose new hardware that will update the look of the space. It's a quick and easy fix that anyone can do, and many styles are available at most local hardware stores.
Faucets – A new faucet can give any old sink a fresh new look. To meet your needs, faucets come in a wide array of styles and finishes. Additionally, faucets are easy to install too. Just remember: be sure to turn off your water supply before you start!
As you can see, there are several ways to freshen up your kitchen before the holiday season arrives. If you need assistance with any of your home updates or maintenance projects, RIGGS is here to help!