Recently, we have seen homeowners turn their attention towards their bathrooms. These projects have ranged from simple replacements of vanities and fixtures to complete master suite renovations. As diverse as the project scopes may sound, the one common denominator we're seeing is the use of tile.
In the past, tile was seen as an essential component of the bathroom. While its elegance made it popular with designers and homeowners, it was actually its ease of cleaning that made it the recommended choice.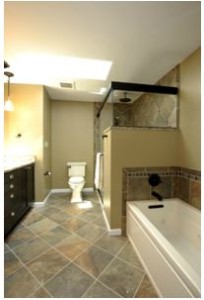 Today, tile still has that great functional aspect to it, but it is also being used as a focal point in the design of the bathroom.
Here are a few examples:
Glass Tiles: Glass tiles in aqua and sand tones can be leveraged to create a spa-like atmosphere.
Graphic Tiles: These types of tiles in glass or stone can create a very modern and contemporary feel.
Subway Tile: White subway tiles can be used to make the space feel clean and bright with a retro feel. Additionally, Swanstone has developed a faux tile that doesn't involve grouting and is easy to maintain.
Like everything, there is a wide range of materials and pricing in the world of tile. At RIGGS, we help homeowners create the design they like, and our Selections Manager, Kristyn Brennan, helps them choose tiles that will make that look come to life all while staying in budget. Let us show you how tile can transform your bathroom!