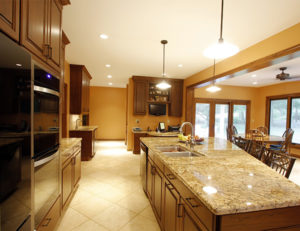 Between grabbing an after-school snack, preparing meals or simply catching up with the family, everyone passes through the kitchen, or more accurately, the hub of the home. We are often asked to help make a family's kitchen more kid-friendly and functional for the whole family. One of our most popular kitchen remodel projects was with a South County family who wanted to keep the whole family in mind with their remodel. We were able to create a beautiful space that worked for the whole family, providing extra storage, homework stations and a mudroom with built-in lockers for every family member!
Here is our guide to creating a comfortable kitchen space for kids and adults to cook, talk and spend time together.
Keep it organized. Add pantries, drawers, cabinets and shelving for ample storage. Create a place for everything from kitchen equipment, utensils, kids' stuff and anything else you might need.
We've had several families create a separate kid friendly base cabinet with roll out drawers just for the kids. This is the perfect place for lunch boxes, travel water bottle or anything your kids might need, right within their reach.
Add a blackboard. Use blackboard and create a blackboard to leave notes, reminders or encouraging quotes for your family. This is a great way to stay connected and get the whole family involved. No more post-it's or papers scattered around the kitchen!
Designated homework station. Fashion a space specifically for homework, crafts or games in the kitchen, this way the family can stay together, talk, ask questions and spend quality time together. Kitchen island or breakfast bars are excellent places to pull up a chair and spend time together.
Open floor plan. An open floor plan is ideal for keeping an eye on your kids or interacting with guests while continuing your work in the kitchen. No one likes being isolated in the kitchen when all the activity is going on in another room!
Keep it clean. Stainless steel has a very modern, sleek look, but it can be a lot of work to maintain and keep clean, especially with kids. Black appliances are an excellent choice and easy to keep looking new, but another great option would be investing in appliance front panels. With appliance front panels, you can still have the stainless steel appliances you love, without worrying about the maintenance. Did you fall in love with a certain countertop but are nervous that your kids, who might be prone to spills, are likely to stain your new surface? Don't worry, now there are sealers for every type of countertop that can protect the natural beauty from your messy kiddos. Quartz countertops are also a great option for active families. You want to spend as much time enjoying your kitchen with your family, not constantly cleaning and tidying up the area.
For other kitchen ideas, be sure to check out our Pinterest board for inspiration and visit our website to see some of our past kitchen projects.