In our previous blog entry, we examined the first phase of a room addition project for a Kirkwood home. Room addition projects are extremely common with growing American families. So, as a home remodeler we have become extremely efficient in the process.
In less than one week, the RIGGS crew was able to dig/pour the foundation and complete the subfloor on a two-story 640 sq. ft. living space.
Upon completion of the foundation and subfloor, our crew began to frame out the addition.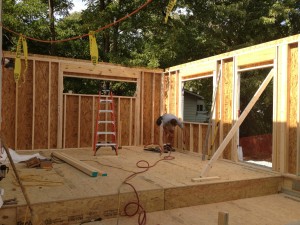 When we frame out a space, we follow the following steps:
Mark Your Walls: Using a chalk line, we mark the wall lines on the subfloor.
Cut & Layout Wall Studs: This is the point in the process where the design really starts to come to life.
Build Walls: Once the wall frames are complete, we lift the walls up and connect them to the neighboring wall.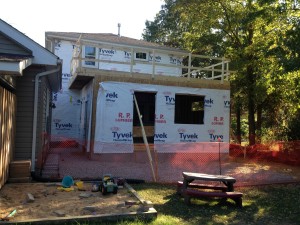 Do you notice how there is a slight overhang on the left side of the structure? This will help us join both the new addition and the garage, creating an attached garage. The cantilever carries the support and allows for us to forego the use of external bracing for the new roof structure.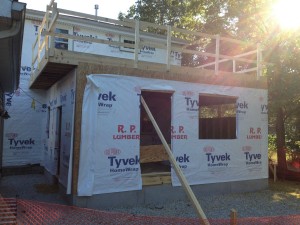 Looking pretty good, wouldn't you say? And to think we were able to dismantle the deck, dig/pour the foundation, install the subfloor, put up the frame, roof and siding in only one month! We couldn't be more thrilled with the progress we have made in such a short period of time.
In chapter three of Adding a New Space to a Kirkwood Home, we will begin to highlight our favorite part of the remodeling process: the design phase!
Thinking about adding a new addition to your home? RIGGS Company & Design can help! We offer superior design, planning and remodeling solutions that are truly second to none. Drop us a line or visit us online 24/7 at www.riggscompanystl.com.