Do you wish you had more space to entertain your guests? A basement remodel is a great way to create to create additional space, without building on to your home.
To give you an idea of what your basement could look like, we would like to showcase one of our favorite custom basement remodels. This project incorporated a custom designed bar area complete with custom cabinetry, wet bar, refrigerator and convection oven with plenty of counter space for mixing and serving food and beverages.
What really makes this space special is the wine cellar. When we create custom basement remodels for homeowners, we really want to make sure the space reflects their personal passions.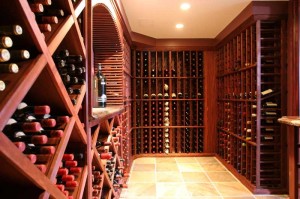 In this particular case, the homeowner's love for wine led to us designing and building a custom wine cellar. The wine racks were designed to store the couple's extensive wine collection, along with beautiful granite countertops for displaying and tasting when entertaining guests. This fully furnished basement den will allow the couple to entertain both family and friends for years to come.
If you are looking to create the perfect basement area in your home, please feel free to give RIGGS a call today. We offer superior design, planning and remodeling solutions that are second to none. Drop us a line or visit us online 24/7 at www.riggscompanystl.com