In the 1990s, many new master bathroom designs came equipped with both a whirlpool bathtub and shower, creating a space that felt very congested. Now, as these 90s bathrooms begin to come up for remodeling, their owners are opting to ax the whirlpool tub altogether, making room for a much more spacious shower.
As you know, functionality has always been a vital piece of our approach to remodeling. By eliminating the large whirlpool bathtub and building a more open shower, you create a space that can serve a variety of needs. For one, it gives you the ability to include a shower seat and a hand shower on a slide bar. This will elevate the overall comfort level, making showering an enjoyable experience well into your golden years.

As you can see, the openness of the shower would even allow for addition of a shower chair, giving you the ability to age in the friendly confines of your own home.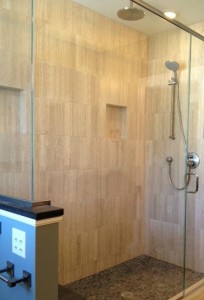 To see some examples of the bathrooms that we have designed, please feel free to peruse our photo gallery at riggscompanystl.com.

If you are looking to update your home—RIGGS is here to help! Drop us a line today at 314.821.7646.