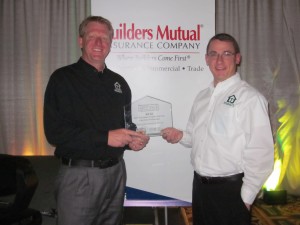 According to the Occupational Safety & Health Administration, more than 4.1 million workers suffer a serious job-related injury each year. As on the job safety becomes more and more critical in maintaining a successful business, many construction companies are adopting new safety programs in an effort to ensure their workers remain unharmed. RIGGS Company, a Kirkwood-based design-build remodeling firm, has been awarded a 2013 Safety Award for Excellence (SAFE) from the National Association of Home Builders for their high quality safety programs.
RIGGS' safety programs empower workers to be true leaders within the safety arena. The RIGGS safety mantra emphasizes taking appropriate corrective action if a RIGGS employee or subcontractor is acting in an unsafe manner. This will ensure the jobsite not only remains safe, but fully productive during the duration of the project.
Recipients of the SAFE award are recognized for going the extra mile by implementing innovative construction safety programs and an overall commitment to causing positive change within the industry. Through their dedication to maintaining a safe and productive work environment, RIGGS was able to accomplish a feat rarely seen in the construction world in 2012: zero lost days of work due to injury.
"It is our mission to keep a safe and productive work environment at all times," said Bill Riggs, President of RIGGS Company. "The SAFE award only further solidifies our place as one of the safest general contractors in the St. Louis area. It is an honor and privilege to be held at such high regard."