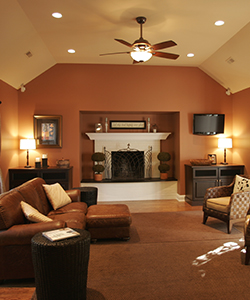 Sometimes, the best way to get the new, updated space you need is through a room addition. A home addition can seem intimidating, but RIGGS is here to make the process smooth, and the addition fit seamlessly with the rest of your home.
Whether you're thinking of a room addition, a two story addition, or adding a second story addition with a "Pop-Up", an addition gives you more square footage to create a kitchen, hearth room, master suite, new family room, or whatever specialty space you need.
RIGGS can help you do it while still maintaining the look and feel of the existing home. You're addition will never look tacked-on, oftentimes it looks like it's always been there!
Why Choose RIGGS for Your Home Addition?
Adding on a home addition is exciting, but also a serious undertaking, especially when it's a large addition like a two story addition or a second story addition. It's important to find an experienced contractor you trust. At RIGGS, we're family, and we treat our customers like family too. We've been around since 1959, so we have the experience you're looking for, and a great reputation from our clients. RIGGS provides services in Kirkwood, Webster Groves, and the surrounding areas. We're not here to scam you out of money; we're here to partner with you to create a home you'll love for years to come.
Check out our previous work to see what we've done. Choose from the list of projects in the navigation bar on the left of this page to explore ideas for your own Addition.
Check out our full gallery