RIGGS Company, a Kirkwood design-build remodeling firm established in 1959, is pleased to announce the promotion of, Brian Marquis to Production Manager.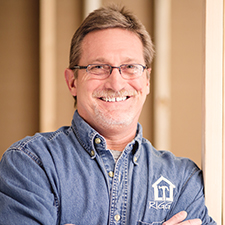 Brian has grown with RIGGS since starting in 1986 as a Carpenter Apprentice, advancing over time to Journeyman Carpenter, Project Manager, and more recently Senior Project Manager.  Now, as the Production Manager, he utilizes his firsthand knowledge of all field work and job management to oversee progression of all RIGGS' jobs, in addition to training and managing the entire field production staff.  Brian is also responsible for tool and material inventory, tool maintenance, and warehouse orderliness.  Decades of experience enables him to act as a client advocate with a focus on fostering and managing relationships between client and staff.
"Brian has naturally transitioned into this position with his years of experience and longevity in the company," said Amie Riggs, Vice-President of RIGGS Company. "His easy-going personality makes him an amazing teacher and peer. He is a true leader, and we are thrilled about his next chapter here at RIGGS."
Watching his father excel as a finish carpenter with RIGGS for many years, he grew a passion for carpentry at  a young age, choosing to follow in his father's footsteps.  Now with more than thirty years as a union  carpenter, Brian has proven himself a skilled craftsman, producing exceptionally beautiful custom woodwork that rivals even his father's.
"I am excited for my new role and responsibilities with the company, and look forward to learning and growing within the RIGGS family," said Marquis. "I enjoy the challenge of remodeling and finish work, especially the opportunity to be creative.  Now as Production Manger I get to see all stages of a job, starting with the acquisition of a new project through to the presentation of its final result."
Brian was born and raised in St. Louis, Missouri and is happily married to his wife, Jann. In his free time, he enjoys any time outdoors camping, hunting, and fishing, as well as spending time with his grandchildren.
About RIGGS Company
For nearly 60 years and three generations under family leadership, RIGGS Company has dedicated themselves to the highest values of uncompromising quality, doing what's best for the client at all times, proposing the right solutions and executing each job with unparalleled excellence. RIGGS is a recipient of the Better Business Bureau TORCH Award, is a longtime supporter of events and causes in the Kirkwood community, and has received numerous Homer Awards from the Home Builders Association of St. Louis. The firm has been featured in the St. Louis Business Journal Table of Experts, in the St. Louis Post-Dispatch, and a number of construction and remodeling trade publications. For more information, visit www.riggscompanystl.