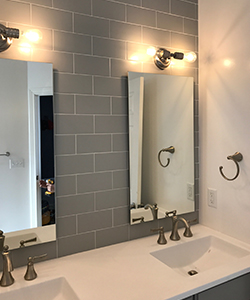 Bathrooms are a place we get ready every morning, or unwind in the shower at night. They are serene space where you can be your most vulnerable and wash away your worries. Of course, bathrooms have not always been seen this way. If your bathroom functions as a necessary evil in your house, it may be time for a bathroom renovation.
Today, bathrooms have more functionality and convenience than they once did. RIGGS has been in the thick of remodeling older, outdated bathrooms to meet today's standards. While styles have changed, a bathroom remodel is much more than just making it look great. Newer appliances can also make your bathroom more efficient, which is good for your water bill and the planet.
A bathroom renovation can go beyond just replacing current fixtures. From spa-like retreats to contemporary oases, RIGGS can transform your bathroom. We'll work with you to create a master bathroom, hall bath, or powder room that fits your needs and incorporates the style that's all you.
Why Choose RIGGS for Your Bathroom Renovation?
There are a lot of things that can go wrong with a bathroom remodel or renovation, especially if the contractor is inexperienced or careless. It's important to find a contractor you trust. We at RIGGS have been committed to providing excellent craftsmanship and quality care for three generations throughout Kirkwood, Webster Groves, and the surrounding areas. We value our client's feedback, and do our best to make the renovation process as smooth as possible.
Whether it's just a powder room, or you're looking to get the spa-experience you've always wanted, we are committed to provide results you love. RIGGS can transform your bathroom into what you've always wanted. Choose from the list of projects in the navigation bar on the left of this page to explore ideas for your own bathroom renovation.
Check out our full gallery