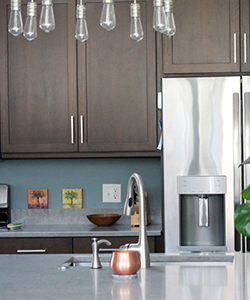 Kitchens are the heart of every home, and more than a place to just cook. That's why at RIGGS, we call them Kitchen Suites! They're the hub of all activities, and can include everything you need. From gourmet cooking and breakfast bars to dining areas, hearth rooms, homework stations, and more, we can transform your kitchen into what you've always wanted.
Is your kitchen living up to your needs, or is it time for a renovation? Cabinets, soffits, and appliances can all easily date your kitchen, or make it less energy or space efficient. A kitchen renovation can transform your kitchen into a space you love. You deserve a fully functional kitchen that you actually want people to see!
A kitchen renovation can go beyond transforming your current space. The kitchen of your dreams may be bigger than the one you have now. Expanding into another area of your home may be the solution to achieve a kitchen that fits your lifestyle. If you're interested in a home addition for your kitchen renovation, we can take care of that too!
Why Choose RIGGS for Your Kitchen Renovation?
We understand a kitchen remodel or renovation can be stressful, and that it's important to find a contractor you trust. The RIGGS family has been committed to providing excellent craftsmanship and quality care to our customers since 1959 throughout Kirkwood, Webster Groves, and the surrounding areas. We have the experience and the client trust to provide you a smooth kitchen renovation. Whether you're looking for a whole new kitchen or just a facelift for the one you have, we'll work with you every step of the way.
No matter what level of kitchen renovation you're looking into, virtually anything is possible with RIGGS. Want to check out what we've done to get ideas for your own kitchen remodel? Choose from the list of projects in the navigation bar on the left of this page to explore ideas for your own Kitchen Suite.